Apartment Complex Swimming Pool Liability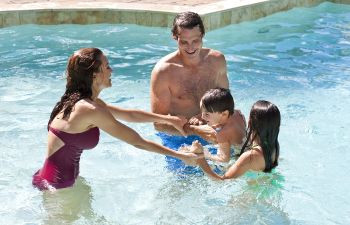 Now that summer is here, many of us are looking for ways to relax and soak up the sun. If you live in an apartment complex, you probably consider the onsite swimming pool a great way to enjoy a hot day. But what happens if you or a loved one suffer an injury at the pool? Are you protected?
Premises Liability
When you sign a lease, your landlord assumes some responsibility for your safety. The landlord is responsible for properly maintaining the premises, including the outdoor recreation areas. It is the landlord's responsibility to ensure that the pool is maintained. Landlords may be held responsible for:
Drowning accidents. If the complex pool does not have adequate fencing with a locking gate, the landlord may be held liable for drowning accidents.
Health hazards. If the pool water is not properly maintained, the water can become contaminated. The landlord has the responsibility to ensure the water is safe.
Failing to make necessary repairs. If the area around the pool is in poor condition, or if the filtration system is faulty, the landlord may be held liable.
How You Can Protect Yourself
Before you sign the lease, check the pool area. If it has not been properly maintained, consider looking elsewhere. If you are already a resident and notice the pool is being neglected, file a maintenance request and follow up with the landlord. Make sure you are using the pool responsibly and report any trespassers or residents that are negligently using the pool area.
The pool is a great way to beat the summer heat, but if it is neglected, it can lead to devastating results. If you believe you or a loved one have suffered injury or death as a result of a neglected apartment pool, contact the Taylor Anderson Law Firm today to schedule your consultation.
Posted on behalf of Taylor Anderson Law Firm