Autumn-Related Traffic Accidents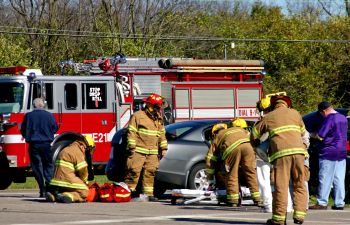 Did you know that the US Department of Transportation lists autumn as the deadliest season for pedestrian fatalities in auto-related accidents? This may come as a shock, but there are specific reasons behind these statistics.
Pedestrian-Related Accidents
Autumn brings with it cooler temperatures, street festivals and tailgating, which means that more people are walking in close proximity to traffic. Autumn also ushers in days with shorter daylight hours, leaving us in the dark sooner. More people plus less visibility equals danger for pedestrians and drivers alike. Here are some tips to help you avoid an accident so you can enjoy all the season's festivities:
Use your headlights. Since the days are shorter, visibility decreases. By using your headlights, you make your car more visible to pedestrians.
Watch your speed. Fall festivals usually pop up in parking lots or fields, leaving little parking space. More people will find parking along the side of the road and walk to the event. Slow down in these areas, and pay extra attention to crosswalks and sidewalks.
School zone safety. Autumn also means our children are back in school. Keep your distance from school busses and follow the school zone speed limit. Remember that children may pass in front of the school bus to cross to the other side of the street, so never pass a stopped bus.
Weather changes. Autumn usually brings with it rainy days that can decrease visibility and make the roads slippery. According to the National Highway Safety Administration (NHTSA), the first ten minutes of a rain shower are the most dangerous, since the rain will make the oils present on roadways more hazardous. Falling leaves can also hide the roadway, making it more difficult to see painted road lines or possible damage.
Wildlife. Wildlife activity increases in autumn as animals are foraging in preparation for winter. Pay attention to areas known as deer crossings, and keep an eye out during the morning and evening hours when animals are more prone to be active around roads.
Autumn is a beautiful time of year, and by following these tips, you can stay safe on the roads. If you have been the victim of an autumn-related accident, the Taylor Anderson Law Firm is here to help. Call the office at (843) 277-1176 today to schedule a consultation.
Posted on behalf of Taylor Anderson Law Firm