Have You Suffered From a Slip and Fall injury?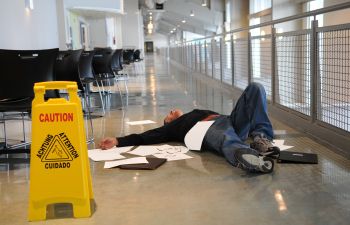 A slip and fall injury is where someone slips or trips resulting in an injury on someone else's property. Slip and fall injuries can occur anywhere both indoors and outdoors. Whether the slip and fall occurred in a mall or at a friend's house, the property owner may be held liable for the injury. Slip and fall accidents can be caused by several reasons. Some common slip and fall reasons include the following:
Indoor Slip and Fall Reasons
slippery floor from water or waxing
torn or bulging carpet
changes in flooring
poor lighting
narrow stairs
debris on the floor
Outdoor Slip and Fall Reasons
uneven surfaces (broken or cracked sidewalk)
weather conditions (rain, ice, or snow)
pothole
unsafe construction or working zones
According to the National Floor Safety Institute (NFSI), slip and fall injuries account for over one million hospital emergency room visits. Slip and fall injuries could result in soft tissue injuries, head injuries, cuts/abrasions, spinal cord injuries, and broken bones. It may be hard to prove who is liable for the slip and fall injury. There must be a reasonable party whose negligence caused the injury to obtain compensation for the slip and fall injury sustained.
Experienced Slip and Fall Injury Lawyer in Charleston
If you or a loved one has sustained a slip and fall injury as a result of someone else's negligence, call Taylor Anderson Law firm immediately to see if you have a case. Time is of the essence because there may be a limited time frame to legally file a lawsuit. Taylor Anderson is ready to help you better understand the legal issues and your rights in your slip and fall injury case.
Posted on behalf of Taylor Anderson Law Firm