Nursing Home Abuse and Unexplained Injuries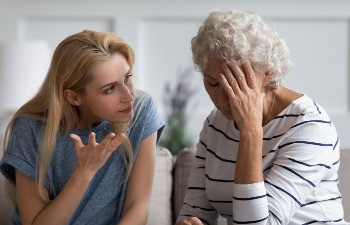 When you decide to place a loved one in a nursing home or assisted living community, you hope they will receive the care and attention they deserve in their twilight years. Unfortunately, not all nursing home staff and medical aides uphold the standard of care that we expect for our elderly family members.
Families often discover their loved one has sustained unexplained injuries. While under the care of trusted caregivers, nurses, or administration, this can be a devastating and heart-wrenching experience. At Taylor Anderson Law Firm in Charleston, SC, we understand the gravity of these situations. Our lawyers help families navigate the complexities of nursing home abuse and neglect cases.
Types of Unexplained Injuries
Nursing home residents can suffer from various unexplained injuries, some of which may be considered intentional abuse or inadequate care. Here are some common types of unexplained injuries.
Physical Injuries
These include cuts, lacerations, bruises, or fractures that are not reported to family members and lack a reasonable explanation. Such injuries can be signs of physical abuse or neglect.
Sexual Abuse
One of the most distressing forms of abuse, unwanted sexual contact, including rape, can occur in nursing homes. Victims may be unable to report such incidents due to cognitive or communication limitations.
Financial Exploitation
This type of abuse involves the theft of cash and personal property, fraudulent changes to one's will, unpaid bills, and other forms of financial misconduct. Elderly residents may be particularly vulnerable to financial exploitation.
While accidents or falls can lead to injuries in nursing homes, the staff must promptly report these incidents and any resulting injuries to family members. Furthermore, nursing homes are responsible for providing the necessary care to help residents heal. When injuries go unreported, and appropriate care is not provided, it raises concerns about the facility's quality of care and potential abuse.
Why Seek Legal Help?
Suppose you suspect a loved one has suffered unexplained injuries in a nursing home or assisted living community. In that case, it's essential to take action. Reporting your suspicions to the nursing home administration is the first step.
At Taylor Anderson Law Firm, we have the expertise and experience to handle nursing home neglect or abuse claims in Charleston, West Ashley, James Island, or anywhere in South Carolina or Georgia. We are committed to holding responsible individuals and entities accountable for their actions and ensuring your loved one receives the care and justice they deserve.
Contact Us for a Free Consultation
If you are facing the heartbreak of nursing home abuse or neglect, please get in touch with us at Taylor Anderson Law Firm. We offer free consultations to assess your claim, answer your questions, and deliver the legal guidance you need during this difficult time.
Your loved one's well-being and rights matter, and we are here to fight for justice and accountability in nursing home abuse cases. Contact us today, and let us be your trusted advocate in Charleston, SC.
Posted on behalf of Taylor Anderson Law Firm