Termite Infestation and the Home Buyer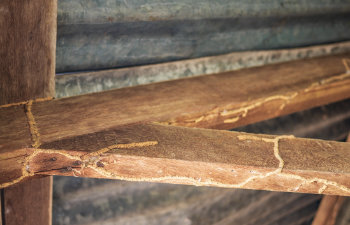 There is so much to think about when moving and the disruptions that evolve from it can be overwhelming. The last thing on your mind is whether the structure of the home that the realtor is trying to sell you or has sold you has a sound structure.
Termite Letter or Termite Bond
Termite damage may have severely damaged the structure of any wood building. Therefore, it is prudent to have a pest control company look over the property during the inspection phase before making a purchase. A reputable company will either give you a letter declaring the home termite-free or treat for termites and give you the option to purchase a termite bond.
A termite report, also known as a wood infestation inspection report or wood destroying organisms report, should give you the status of any infestation. Opting for a termite bond, should you decide to go ahead with the purchase of the home, might be a prudent decision.
Occasionally, your bank may require a letter or bond from a pest control company. There are instances where the seller obtains the letter, but usually, it is the responsibility of the buyer. You should look for any termite letter in the seller's disclosure. As the buyer, you need to take an active role to protect your interests.
A termite bond is a contract between the owner of the bond and a pest control company. It may be transferable if the seller has one. The terms may be set on a case-by-case basis.
Most bonds cover the killing of active infestations and the direct damage relating to that infestation should it continue or be overlooked. This bond may also include annual inspections, reimbursement for repairs from termite damage and/or coverage for future treatments. Be aware that not all types of termites are included in these bonds.
Contracts do not include inspections for bed bugs, ants, beetles or other pests. Also, it will not cover damage to your home that may induce an infestation, such as water damage. You will need to check your homeowner's policy carefully as well, because infestations are not usually covered.
Protect Your Rights
You may want to consult an attorney in cases where termite, powderpost beetle, wood-destroying fungus and other wood-destroying organism infestation damage was not disclosed by the seller or a problem arises from a termite bond or letter.
A knowledgeable attorney may make an analysis of the bond, inspections, pesticide applications and any disclosures by previous owners. Protect your rights to a safe home and call Taylor Anderson Law Firm today.
Posted on behalf of Taylor Anderson Law Firm