Who is Liable if I Fall Due to an Uneven Sidewalk or Street?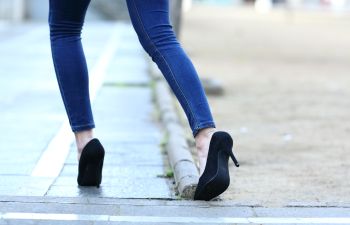 Efforts by the Federal Highway Administration to make streets safer for pedestrians began in 2004. Nonetheless, pedestrians still get injured or die. Most of these incidents occur after dark and for various reasons.
For example, people can easily trip and fall on uneven or cracked pavement and walkways. It can be perilous at night when the lighting is dim or murky, making it hard to see a crack in the pavement.
A shoe heel or bicycle tire can get stuck in it, or a raised portion of pavement could result in a trip and fall mishap. Pedestrians would have to glance down for such obstacles even in broad daylight, which is problematic.
Who is liable in such situations? What should you do if you fall while walking in a public place?
Who to Notify About Filing an Injury Report
Get in touch with the property owner or the local authority to report your fall and injuries. For example, if you fall in a store parking lot, go straight to the store to fill out an accident report.
If the accident occurred on a public street or sidewalk in a city or town, you should contact the town clerk to make a report and identify the land owner. The municipality or city owns the roads; thus, they will probably have authority over them. However, if you are hurt on a shopping center's access lane, it could be the mall that has to pay for your medical bills.
Steps to Take Following the Fall
Assess injuries first, even before moving. Don't assume you are fine because adrenaline masks pain. Call 911 instead, especially if you hit your head or feel pain anywhere on your body. Even if the paramedics say you are okay, they will give you next-day warnings. Heed their counsel and keep copies of instructions, medical bills and other expenses like medication or crutches and lost wages.
Next, note witness names and take photos of the scene.
You should also hire an experienced attorney to help you fight the case. Personal injury lawyers specialize in obtaining compensation for landowner or local authority negligence victims.
The Taylor Anderson Legal Firm works hard for you and gathers all the facts about your case to make an injury claim that will get you the best possible result. We review injury claims for free, so if you fall on an uneven street or sidewalk, contact us right away.
Posted on behalf of Taylor Anderson Law Firm